MICHELLE OBAMA
In 2008, Michelle Obama became the first Black First Lady after her husband, Barack Obama, was elected as the first Black President of the United States. Their presence in the White House inspired public enthusiasm and vicious attacks in equal measure. In spite of this, she carved out her own legacy while being an essential part of her husband's history-making presidency.
JACKIE KENNEDY
Jackie Kennedy's time in the White House was short – thirty-five tumultuous months that promised a new dawn for America but were marked by private betrayal and public tragedy. Using rarely seen personal letters, photographs and intimate audio recordings, the episode reveals how Jackie took control of JFK's legacy in the days following his assassination.
NANCY REAGAN
Nancy Reagan is popularly known as the doting wife of President Ronald Reagan, but in reality, she had much more than a supporting role in the first 'Hollywood' presidency. From Ronald Reagan's first campaign for the White House in 1980, to his Cold War ending triumph in 1987, Nancy Reagan was calling the shots behind the scenes.
ELEANOR ROOSEVELT
Eleanor Roosevelt and former President Franklin Delano Roosevelt created arguably the most formidable political partnership in American history. Eleanor's desolate childhood sowed the seeds of a life devoted to standing up for the poor and dispossessed. By the time she reached the White House, she was at the forefront of efforts to ease the suffering caused by the Great Depression and a leader of the campaign for civil rights.
HILLARY RODHAM CLINTON
After entering the White House in 1992 with former President Bill Clinton, Hillary Rodham Clinton was almost immediately attacked for being too ambitious and too involved in her husband's administration. The criticism did not discourage her, however, and following Bill's scandal, Hillary chose to forge her own path and became a Senator, Secretary of State, and nearly elected as the first female President of the United States.
LADY BIRD JOHNSON
The Johnson administration enacted the Civil Rights Act, one of the most prolific legislative programs in U.S. history – but it likely wouldn't have succeeded without Lady Bird Johnson's steadying presence. Catapulted, by the assassination of President John F. Kennedy, into a role that she didn't prepare for, Lady Bird played a vital role in shaping her husband's presidency.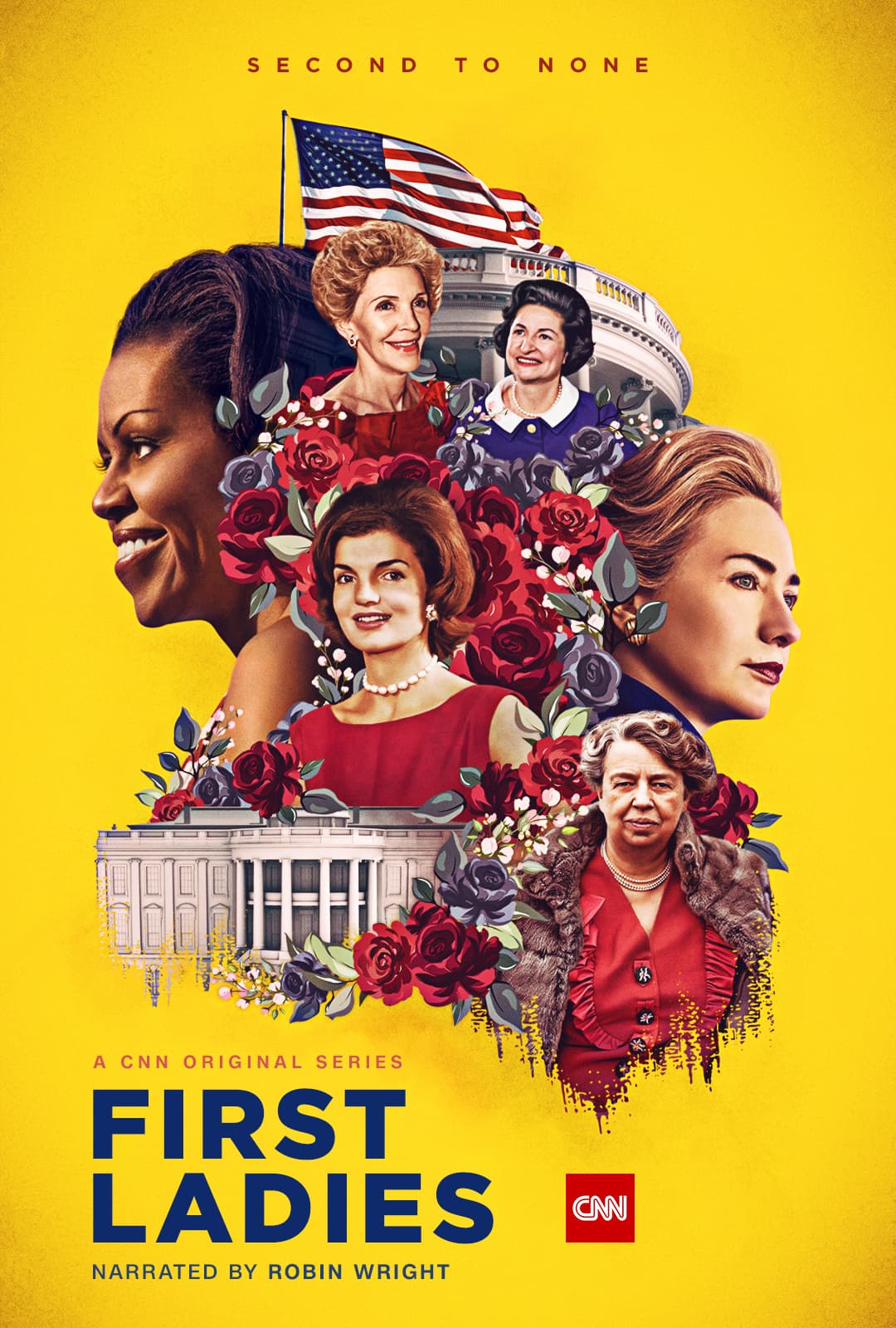 ABOUT THE SHOW
The six-part docuseries narrated by Golden Globe-winning actress Robin Wright, profiles Michelle Obama, Jackie Kennedy, Nancy Reagan, Eleanor Roosevelt, Lady Bird Johnson, and Hillary Rodham Clinton. Blending in-depth interviews, rare archival footage and cinematic recreations, First Ladies is a bold revision of each woman's traditional portrayal, revealing how they were impacted during their time in the White House, and how their achievements fundamentally shaped American and global history.