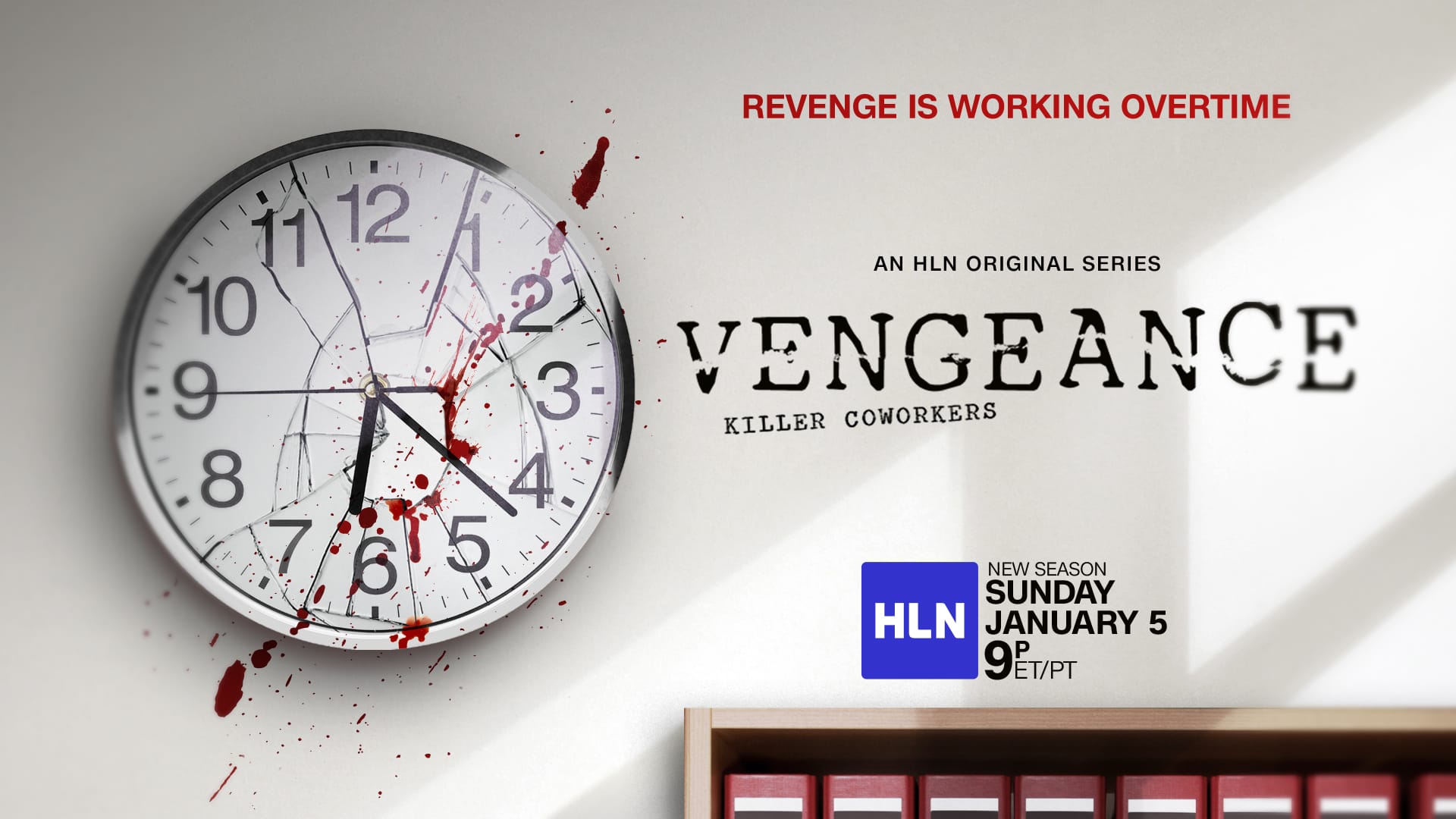 AN HLN ORIGINAL SERIES
VENGEANCE – KILLER COWORKERS
Vengeance is an HLN Original Series about revenge, betrayal and murder. In the new season, Killer Coworkers, follow 10 true-life mysteries through all of the twists and turns that lead to arrests, verdicts and justice.
Body in the Bathtub
New Year's Day 9pm
When a Fresno mattress factory manager is gunned down in the shower, investigators must find out if he was murdered by a disgruntled employee.
Overtime Overkill
New Year's Day 10pm
When a young woman working an extra shift is murdered in her office, investigators must discover who cut her dreams short.
Killing Spree
January 5th 9pm
A string of murders targeting a pizza chain and its employees leads to a nationwide manhunt for a killer hell-bent on revenge.
Obsession at the Office
January 5th 10pm
When a lovers' spat ends up in the hospital parking lot, a coworker's murderous means are exposed.
Murdered Boss
January 12th 9pm
When a celebrity real estate broker is found dead in her New York apartment, investigators are faced with powerful potential suspects.
Deadly Ambition
January 12th 10pm
When a shooting at the University of Alabama Huntsville leaves three professors dead, the tight-knit college community questions how they missed a murderer lurking among them.
Poisonous Affair
January 19th 9pm
When a cancer researcher ends up a patient at his own hospital, is a toxic work environment to blame?
Monster Under the Bed
January 19th 10pm
When three hotel workers fail to arrive for their shift, a bizarre series of discoveries reveals a twisted workplace love triangle.
Lies, Cameras & Lingerie
January 26th 9pm
When the entrepreneurial spirit turns two best friends into mortal enemies, one woman goes on the run.
Bloodshed in the Barn
January 26th 10pm
Not long after taking a new job, a beloved horse-trainer is found brutally murdered in a rural stable. It's up to investigators in a small seaside town to find her killer.